Same Day Flower Delivery For Audubon PA
Voted Best Florist In The Audubon & Philadelphia Area
Penny's by Plaza Flowers is a family owned and operated floral design firm. We provide local same day and express flower delivery service to customers in Audubon, Pennsylvania. Our award winning floral design team is one of the more talented groups in the state. They produce unique, luxurious and upscale floral designs.
< SHOP OUR AUDUBON FLORAL COLLECTION NOW >
Guaranteed Farm Fresh Flowers
We purchase many of the flowers we sell direct from international and domestic flower farms. Buying direct offers many great advantages. For one, we are able to lower our cost to purchase. Our firm has always been dedicated to sharing those cost savings with our incredible customers. Another advantage of buying direct is variety. As we mentioned, our firm buys from flower farms all over the world. That allows us to always offer the widest variety of gorgeous fresh cut flowers in Audobon and the greater Philadelphia area.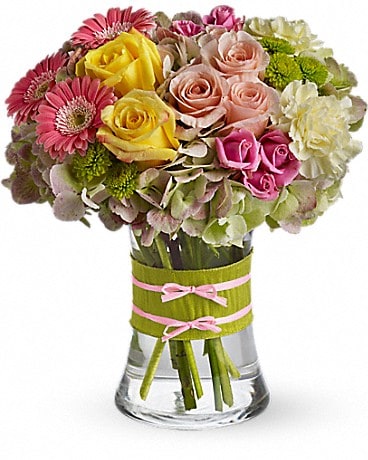 Gorgeous Ecuadorian Roses
Our firm offers the best roses in the Audobon and greater Philadelphia area. What makes our roses so special? We purchase gorgeous premium Ecuadorian roses. These roses are unique and absolutely stunning. They are grown high in the mountains of Ecuador. At the higher altitudes of Ecuador, the rose plants enjoy the perfect blend of sunlight, moisture and soil conditions. Those incredible growing conditions produce beautiful premium roses that have longer stems and gorgeous large blooms.
< VIEW OUR TOP SELLING AUDUBON FLORAL DESIGNS NOW >
Great In Traditional Designs & Stunning In Our Wedding Flower Arrangements
We carry Ecuadorian long stem roses, beautiful garden roses and the always popular spray roses. Our Ecuadorian dozen red long stem rose arrangement is really popular. We also offer two dozen or even three dozen, with greenery, in a stylish vase. Our long stem roses are perfect for Anniversaries, Birthdays and for those special occasions like Valentine's Day and Mother's Day. The garden roses are very popular in our wedding and event flower collections. Garden roses are really pretty and have a very rich and luxurious appearance. They look fabulous when used in bridal bouquets, ceremony floral designs and reception table centerpieces.
Wedding Flower Packages
Penny's by Plaza Flowers creates beautiful wedding and event flowers. We employ a team of talented floral designers. These folks create gorgeous bridal bouquets, flowers for the ceremony and beautiful reception flower designs. If you are getting ready to begin planning for your wedding, we encourage you to reach out to one of our floral design centers. We offer Free Wedding Consultations for all perspective brides.
< VIEW THE PENNY'S BY PLAZA WEDDING FLOWER SITE >
When you come in for your wedding consultation, our event planner is going to want to hear all about your vision for the wedding. Understanding your vision is really important. Once we have a solid grasp on the atmosphere and ambiance that you are wanting to achieve, we can begin to work our magic. The first thing we will work on is the bridal bouquet. We offer traditional, nosegay, cascading and custom hand-tied bouquets. After we have come up with the perfect bouquet, we can create a plan for the bridesmaid bouquets. Our designers are great at creating bridesmaid bouquets that really compliment the bridal bouquet.
< VIEW OUR BRIDAL BOUQUET PHOTO GALLERY >
Next we will work up the perfect design plan for the flowers for the ceremony and the reception. There are so many great options to choose from. This is another area where the wedding consultation is really helpful. In the consultation, we will talk about the venue you have chosen for the ceremony and for the reception. Our staff has years of experience. They have designed for most of the top wedding venues in the Audubon and greater Philadelphia area. We encourage you to choose the Penny's by Plaza wedding team to design for your special day. We will help you make your wedding one to be remembered.