Same Day Flower Delivery For Bryn Mawr PA
Voted Best Florist In The Bryn Mawr & Philadelphia Area
Penny's by Plaza Flowers is a Bryn Mawr, Pennsylvania florist. We provide local same day and express flower delivery service anywhere in Bryn Mawr and throughout the greater Philadelphia area. Our delivery staff is one of the very best in the state. Every flower delivery that we handle is guaranteed for on-time arrival.

We operate two floral design centers. Each of these flower shops are open to the public for in-store shopping. Both are equipped with walk-in coolers, that are available to our in-store shoppers. The award winning floral design team at Penny's by Plaza keeps these coolers full of beautiful, farm fresh floral designs, themed for many different occasions. If you stop by one of our flower shops and don't find the exact floral design you are looking for in the coolers, just check in at the customer service desk. We will custom design the exact floral design you would like, while you wait.
Our Plaza Flowers design center is located at 417 Egypt Road, Norristown, Pennsylvania 19403. Our Penny's Flowers design center is located at 263 N Keswick Avenue, Glenside, Pennsylvania 19038.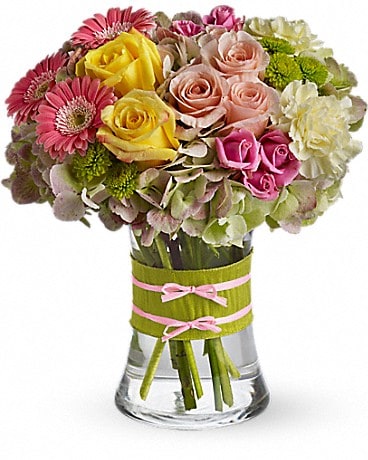 Farm Fresh Flowers
We purchase many of the flowers that we sell direct from flower farms. Buying direct offers many great benefits. By eliminating the wholesalers, we are able to reduce the cost of acquisition for the flowers. That allows us to share cost savings with our clients. Buying direct also reduces the time between when the flowers are cut at the farm and when they arrive at our floral design center. Fresher flowers in your arrangement translates directly into longer vase life. The fresher the flowers the longer you get to enjoy them.
Fresh Flower Sources
Our staff buys from both domestic and international growers. We offer one of the widest selections of farm fresh flowers anywhere in Bryn Mawr and Philadelphia. In order to carry all of the most popular floral varieties, we need to purchase from growers all across the world. For example, each Spring we order gorgeous fresh cut tulips from Holland. During the Spring and Summer, we order gorgeous orchids from Thailand. Many of the roses we sell are purchased directly from growers in Ecuador.