Same Day Flower Delivery For Conshohocken PA
Voted Best Florist In The Conshohocken & Philadelphia Area
Penny's by Plaza Flowers is a Conshohocken, Pennsylvania florist. We provide local same day and express flower delivery service anywhere in Conshohocken and throughout the greater Philadelphia area. Our delivery staff is one of the very best in the state. Every flower delivery that we handle is guaranteed for on-time arrival.
< SHOP OUR CONSHOHOCKEN FLORAL COLLECTION NOW >

We operate two floral design centers. Each of these flower shops are open to the public for in-store shopping. Both are equipped with walk-in coolers, that are available to our in-store shoppers. The award winning floral design team at Penny's by Plaza keeps these coolers full of beautiful, farm fresh floral designs, themed for many different occasions. If you stop by one of our flower shops and don't find the exact floral design you are looking for in the coolers, just check in at the customer service desk. We will custom design the exact floral design you would like, while you wait.
Local Same Day Flower Delivery
Penny's by Plaza provides local same day flower delivery service to Conshohocken and throughout the greater Philadelphia metropolitan area. We employ a team of professional delivery drivers. These folks are some of the most experienced and knowledgeable delivery folks in the state. Each morning, this talented team assembles at our floral design centers. They arrive at our flower shops early in the morning, normally between 7:30 am to 8:00 am. Each delivery van is carefully loaded with the first deliveries of the day. Our goal is to complete all scheduled deliveries by not later than 6:00 pm.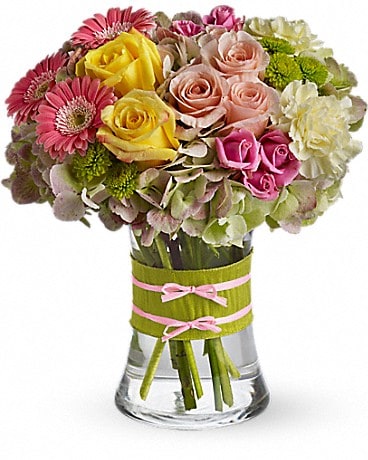 Express Flower Delivery Service
There are times when you may need to have your floral purchase arrive at it's destination at a specific time of day. For those situations, we offer our express flower delivery service. When customers opt for express flower delivery, we can normally have an arrangement designed and delivered within approximately 4 hours of the time the order was submitted. Express service is a great option for deliveries to large office buildings. The service also works great for hospital flower and gift delivery. We find that customers who order sympathy flowers also tend to opt for this service more frequently as well.
< VIEW OUR TOP CONSHOHOCKEN FLORAL DESIGNS NOW >

Guaranteed On-Time Delivery
Penny's by Plaza Flowers provides a 100% on-time delivery guarantee with each floral purchase. We guarantee that your arrangement will be professionally designed, with gorgeous farm fresh flowers and delivered by the appropriate time of day. If for any reason we are having an issue with your delivery, our staff will be in touch with you to discuss the options.