Same Day Flower Delivery For Harleysville PA
Voted Best Florist In The Harleysville & Philadelphia Area
Penny's by Plaza Flowers is a Harleysville, Pennsylvania florist. We provide local same day and express flower delivery service anywhere in Harleysville and throughout the greater Philadelphia area. Our delivery staff is one of the very best in the state. Every flower delivery that we handle is guaranteed for on-time arrival.
We operate two floral design centers. Each of these flower shops are open to the public for in-store shopping. Both are equipped with walk-in coolers, that are available to our in-store shoppers. The award winning floral design team at Penny's by Plaza keeps these coolers full of beautiful, farm fresh floral designs, themed for many different occasions. If you stop by one of our flower shops and don't find the exact floral design you are looking for in the coolers, just check in at the customer service desk. We will custom design the exact floral design you would like, while you wait.
Our Plaza Flowers design center is located at 417 Egypt Road, Norristown, Pennsylvania 19403. The Penny's Flowers design center is located at 263 North Keswick Avenue, Glenside, Pennsylvania 19038. Both of these locations are available for customers who want to schedule a free wedding or corporate event consultation.
100% Customer Satisfaction Guarantee
Each floral arrangement we create is backed by our 100% customer satisfaction guarantee. We are committed to providing the best customer experience possible. Each arrangement that we create will be professionally designed. Every arrangement will be made with the finest, freshest, highest quality flowers available. Your arrangement will arrive on-time and the flowers will be farm fresh. If for any reason you don't absolutely love the design, just contact one of our flower shops. We will replace that design with one of equal or greater value, and deliver the new design absolutely free of charge.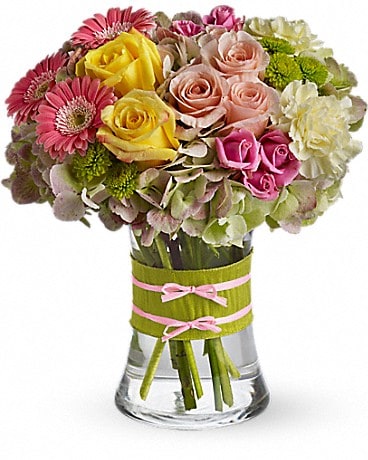 100% On Time Delivery Guarantee
Every flower order we take for delivery to Harleysville PA is backed by our 100% on-time delivery guarantee. Our flower delivery staff is extraordinary. They arrive for work by 7:30 am to 8:00 am each morning. Generally by 8:30 am they are loaded and rolling out of the flower shops with their first delivery runs of the day. Each driver will operate one of our Penny's by Plaza Flowers branded delivery vans. Our drivers routinely make multiple delivery runs into the Harleysville area each day. We deliver to residential homes, businesses, churches, funeral homes, hospitals, mortuaries and schools.