Same Day Flower Delivery For Hatfield PA
Voted Best Florist In The Hatfield & Philadelphia Area
Penny's by Plaza Flowers is a family owned and operated floral design firm. We provide local same day and express flower delivery service to customers in Hatfield, Pennsylvania. Our award winning floral design team is one of the more talented groups in the state. They produce unique, luxurious and upscale floral designs.
Farm Fresh Flowers
Many of the flowers that we sell are purchased directly from flower farms. Buying direct provides many great advantages. We are able to lower the cost of acquisation. Those cost savings allow us to share those savings with our customers. The flowers we sell are fresher. Anytime you can reduce the amount of time between when the flowers are cut at the farm and when they arrive into our design center, that speaks directly to improving flower freshness. What does that mean to you? Fresher flowers translates directly into longer vase life. Longer vase life means you get to enjoy your fresh cut floral design that much longer. One of the most important benefits of buying direct is the fact that we are able to secure a wider variety of floral products. Penny's by Plaza carries all of your favorite varieties.
Beautiful Green & Flowering Plants
In addition to offering the best selection of farm fresh flowers in Hatfield PA, Penny's by Plaza also offers a great selection of green and flowering plants. We have all your favorites. Choose from gorgeous Arboricola, Spathyphyllum, Crotons, Dieffenbachia and so much more. Choose from traditional garden baskets, stunning European dish gardens, succulent gardens, flowering baskets and gorgeous exotic orchid plants.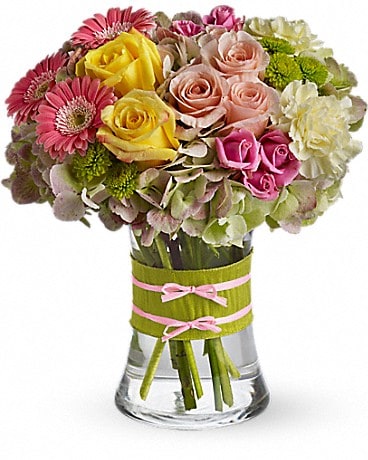 Fashionista Blooms
Take a look at the gorgeous floral design to the right. We call this fabulous design "Fashionista Blooms." The award winning floral design staff at Penny's by Plaza Flowers created this arrangement. It features beautiful pink gerbera daisies., yellow Ecuadorian roses, pink Ecuadorian roses, green poms and beautiful full bloom hydrangea. We expertly arrange all of these gorgeous blooms into a stylish clear glass cylinder vase. The finish the design by adding a beautiful ribbon to the vase.


Edible Treats
Penny's by Plaza Flowers is not just a florist. We also offer a great selection of occasion themed gifts. Some of the most popular gifts we sell are our gourmet gift and fruit baskets. These baskets are filled with delicious edible treats. Choose baskets with gourmet chocolates, farm fresh apples, oranges, pineapples, bananas and grapes. Many baskets include delicious speciality crackers and gourmet cheeses. All of our baskets are available for nationwide same day delivery service.