Weddings
One of the most beautiful things this world offers is fresh flowers! We believe that flowers convey personalities and feelings better than any other medium. Your wedding should be the most spectacular event of your life. At Plaza Flowers we specialize in making this a reality.
Planning . . . Tips For The Bride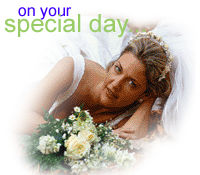 Your wedding should be personalized to the character of the bride and groom. There are very few constraints on how the flowers can be used in a wedding celebration. Therefore the floral decoration can be designed to express whatever mood or image you desire.
With this in mind, you should decide what tone or atmosphere you would like to create during your ceremony and reception--traditional or contemporary? lively party or mild celebration? bright and cheerful or dark and romantic? Also, you should decide what characteristics of your personality you may want to convey through the floral decorations. Don't be afraid to try something you haven't seen before--the personal touches we add to your wedding is what your guests will remember.
Be sure to arrange most of your plans before consulting your florist. It is easy to discuss flowers after you have chosen styles and colors for dresses and table linens and the procedure of the event. In most cases, it is not necessary to see your florist until 90 days prior to the wedding date.
Here are a few things to know prior to meeting with your florist:
What does the Church/Synagogue allow or disallow at the ceremony?
Are there any other Church/Synagogue functions scheduled for your wedding day?
What is the length of the aisle (for the runner)?
Are there any flowers included in your reception package?
Who may we contact at the reception hall to arrange delivery times and decorating details?
What flowers do the fathers and mothers prefer? Should the corsages be made for the wrist or the shoulder?
Other than the bridal party, what relatives and close friends would you like to have flowers.
When is the photographer scheduled to begin shooting.
Bring swatches of dress material and photos of styles you prefer.
Remember. . . it is your day! So, bring lots of ideas for your florist. We enjoy being creative and would rather tailor the wedding decorations to each individual customer.
We hope you find this information helpful. Please call us at 610.630.8826 ext. 211 if you have any questions or to schedule a consultation. We look forward to serving you.